Black Rice Phyllo Tarts
Makes :

about 12 tarts with some rice left over
With Thanksgiving coming soon, I know I've been focusing on all the goodies that will grace our table as we sit down to our feast. But what about the appetizers? If you are having company, and dinner won't be ready right away, appetizers certainly come in handy.
Think of all of your poor hungry guests who will be drooling over the mashed potatoes and gravy and succulent field roast that are nowhere near ready.
This is the perfect mini-dish to occupy their hunger pangs. The rice, like all rice, takes about 40 minutes to cook, but then you just throw in some nuts, spices and berries and use some store bought phyllo dough to whip together a stunning, but simple hors d'oeuvre.
Ingredients
1 cup Black Rice- or any variety will work great
2 cups vegetable broth (to cook rice in)
1 tsp cinnamon or 1 cinnamon stick (to put in rice while cooking)
1 package frozen phyllo dough, thawed
1/2 cup walnuts
1/2 cup pecans
1/2 cup dried cherries
1/2 cup dried blueberries
1/2 cup dried cranberries
a few fresh cranberries for decoration
1/2 tsp cardamom
1/2 tsp nutmeg
1/4 tsp cloves
salt to taste
1/2 cup Olive oil, for dabbing onto the individual sheets of phyllo dough
Directions
Step 1
First, make rice according to package directions. I subbed vegetable broth for the water and cooked my rice at 1 cup rice to 2 cups vegetable broth for about 45 minutes. I threw in a cinnamon stick while it cooked.
Step 2
Next, when rice is finished cooking, stir in walnuts, pecans, dried fruit, salt, and all of the spices. Set aside.
Step 3
Preheat oven to 350°. Take your thawed package of phyllo dough and unroll half (usually these come in packs of two). Make sure you have a damp towel or something similar to lay over top of the phyllo sheets that have not yet been used. Dab olive oil (about 10 dabs each) all over each individual piece of phyllo dough. Layer each piece on top of each other as you go. Essentially, you are gluing the individual sheets together to make a thick crust. Repeat this until you have used about 20 sheets, or half of the package. Now, set the layered phyllo crust that you have just created aside, and begin a new one. Repeat directions for the first crust.
Step 4
Using a pizza cutter, cut layered phyllo dough into approximately 2 1/2 inch squares. Press each square into an average sized muffin pan until all dough has been used. Like this: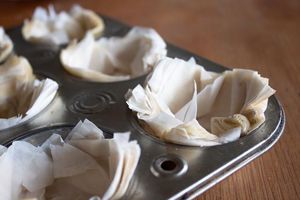 Step 5
Next, fill the phyllo cups with rice mixture.
Step 6
Top with a few fresh cranberries, and bake in preheated oven for about 10-12 minutes, or until edges are lightly golden brown.
Serve hot. You can eat these with your hands, or celebrate high-class-style and use a plate and fork. Happy Thanksgiving!
Reprinted with permission from Allyson Kramer of Allyson Kramer's Recipes.
Photograph © Allyson Kramer.